Foundation Intensive 
Sharing the learning from Kendal ICC
Foundation Course - Intensive - Morecambe Bay CCG - 19th Sept 2019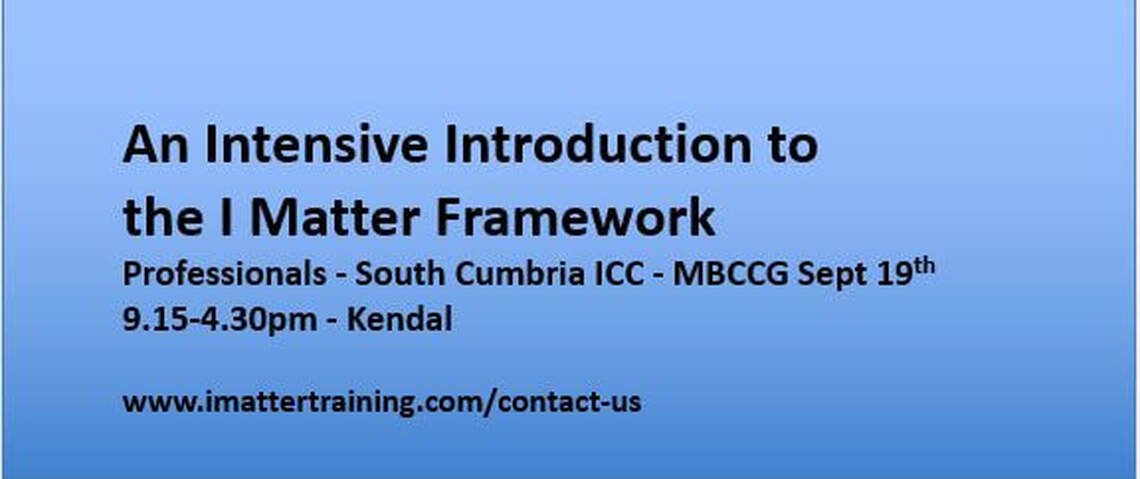 Morecambe Bay CCG has invited us to share learning from the Kendal ICC experience of adopting the I Matter Framework as a practice framework for work to support children and families.  We are running a conference for clusters of professionals from Integrated Care Communities across South Cumbria representing locality GP's, School Leaders and Community Leaders.   MBCCG are funding 24 places on this one day I Matter intensive for clusters of 3-8 professionals from ICC localities in the South Cumbria area.  

The I Matter Framework was developed as a response to some of the common challenges seen in services for children - especially the most vulnerable.  

WHY JOIN US?
Event Type -  This is a professionals Introduction to the I Matter Framework for those who support challenging or complex children and families.
Key Experience - Take a big picture look at child mental health theory and practice.  What does the evidence tell us makes the most difference?  
Related Experiences - Deepen and build new relationships with professionals in your own community who want to make a difference for CYP

WHO SHOULD COME?
Our goal is to share a taster of I Matter ideas and support dialogue in your own ICC locality across education, health and community services.    You will get best value from this learning if you to attend with professionals with child and family and locality development interest.   

​For expressions of interest please contact your ICC lead or ​ruth.threlfall@morecambebayccg.nhs.uk  - PLEASE LET US KNOW YOUR INTEREST ASAP.
What can you do with your I Matter Training?
​I Matter training can support:

Professional Informed Practice of Individuals for work with challenging children and families including introducing developmental thinking
Professional Informed Practice of whole schools and services that support children and families or GP settings - once you have a link or lead licence you can - add us to your CPD offer.

More advanced roles include:
Link Role for other professionals ie being an informal buddy for another professional working through the course
Lead Role for other professionals ie running formal group study support sessions in house

Link Role for parents-carers ie being an informal informed professional as part of their network
Lead Role for Parents-carers ie running formal group study support sessions in house
​
At present we are only offering the Link and Lead role for Parents and carers in Kendal and at present the Lead role supporting parents in house will be offered only via schools not via other types of organisations though the Link role will be an option for any type of organisation.
Schools with Link or Lead Professionals can also work with us to develop use of the assessment tools to embed developmental thinking in their setting. 
​

After the Intensive Course
For those professionals who want to take their I Matter Thinking forward you will be able to continue the learning process through
I) building a locality cluster that wants to continue discussions about adult-child well-being with your colleagues in your setting
ii) registering for the online Foundation learning - as motivated individuals or as your locality clusters - with a discount offered for clusters of 4 professionals who want to study together. 
iii) Joining a second day event to review thinking about the implications with opportunity to join the network 
At this stage of learning - it is helpful to identify professionals who have a strategic view both for their own organisation and in relation to links with other local organisations, AND a good insight into some of the everyday challenges of working and supporting the positive progress of challenging children and families.
​
A FOLLOW UP DAY - 14th November 2019 
REGISTER INTEREST HERE
The I Matter Framework looks straight forward but has some quite specific - sometimes challenging - implications for practice.  
We are running a second day on the 14th November 2019
The group will be invited to reflect on what the I Matter implications for practice in their own settings - using a Art of Hosting style learning process
The result of this would we hope be a draft set of recommendations to the wider community about what is needed to see improved outcomes for children.
THE I MATTER PROFESSIONALS  NETWORK 
On completion of part 1 of the online Foundation course or completion of the second day of training there will also be an opportunity to join the professionals network - an online community of professionals who are exploring how to take forward adult-child well-being thinking.    
CLICK HERE FOR MORE INFORMATION
IT HAPPENED!   We had a very successful day with attendance of 25 representing health, education, police and community.   There was lots of exchange and discussion about the I Matter Framework and about Developmental Thinking - we will be looking forward to the follow-up event on the 14th November 2019